Best Mobile Apps for College Students
There are a lot of app list that try to tell college students what they need. Unfortunately, almost none of it is based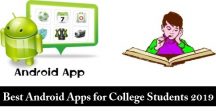 around education. Usually it's recommending that people join Twitter or download Spotify. Let's face it, that's not going to help and these days, kids already know the social media and music streaming stuff they need to know. Here is a list of college apps for Android that might actually help you learn things in the easier manner.
How many student apps do you think are available right now? Between the iTunes App Store, the Google Play Store and the Amazon store, your mobile device will run out of space before you can download the really juicy finds to help you improve your productivity and learning.
Ever since the arrival of the computer, technology has been seen as a paradise for cheaters, scammers and corner-cutters the world over. Within education particularly, technology is held in suspicious fingers with heavy frowns at the world of online essay mills, fake degrees, uncertified courses and leaked exam papers.
Below is a collection of the best apps for students that are now in market and are helpful for those students who are interested in recording their lectures in more effective manner, also communicating with classmates, and utilizing technology to their advantage in regards to both their studies and personal wellbeing.
DOWNLOAD – 20 Best Android Apps for College Students 2019
1. Storage 
Dropbox: Modern studying can easily become a mismanaged mess without the right tools to help you keep organized. Dropbox can help you handle all of your documents, photos and videos in one accessible place whether you're in college, relaxing in your dorm room or visiting your parents at home. Every new users gets 2GB of free storage but students can save money by getting an extra 500MB more for every friend you recommend. Apart from being free, what we love about Dropbox is that you can use it on a wide range of devices including your Blackberry or Kindle Fire.
2. Math

Mathway: It may not look like a beauty queen but Mathway has the mental power to solve your maths questions and remove the guesswork. You can choose from various mathematical functions from algebra to calculus and everything in between. Don't get lazy! Mathway can confirm your answer but don't rely on it for every question you attempt. We recommend that you work out an answer first before inputting it into the handy maths app.
3. Studying
ExamTime: We couldn't talk about the best apps for college students without mentioning our own ExamTime Mobile App! The announcement introducing our iOS and Android mobile apps is hot off the press and has been long awaited by students using our web tools. Don't waste a minute by learning on-the-go and discovering over 1.5 million learning resources from around the globe. Remember, you must sign up to ExamTime before downloading the app. Get the app for free here:
4. English Language
Dictionary.com: The Dictionary.com app is a must-have for any student, not just those studying languages. If your lecturer starts mentioning words that are flying over your head, a simple search on the mobile app will make you sound like Stephen Hawking in The Theory of Everything. Also, special mention to the integration with Thesaurus.com which can transform any assignment into a piece of English literature.
5. Organization
Pocket: Unlike Dropbox and Dictionary.com, Pocket is almost like a well-kept secret that a lot of students haven't picked up on yet. Pocket lets you bookmark articles, videos and other online content so you can take a look at them later when you have the time. The best thing about the free iOS and Android app is that you can make better use of your time by reducing distractions and forcing procrastination to the side.
6. Health and Fitness
MyFitnessPal: Being a student not only puts pressure on you to perform well educationally, it also makes it difficult to manage your eating habits in a healthy way. Working hard preparing for upcoming exams is NOT an excuse to eat whatever food you want. The "My Fitness Pal" app helps you easily keep track of the calories you are consuming with their nutritional database. You can even add in any exercise you have done to understand your calorie intake and output.
7. Cooking
Allrecipes Dinner Spinner: Even if you're a university student living away from home, it doesn't mean you have to be without the comfort of a warm and tasty meal. You don't need to be a top chef to whip up a 5 star meal for your roomies, try out the Allrecipes "dinner spinner" for some recommended recipes. Get stuck in and try cooking up something new, it even gives cocktail ideas.
8. Travel
TripAdvisor: Erasmus students have the opportunity to explore what your new host country has to offer and TripAdvisor will help you accomplish that goal. Taste the local culture in the most popular restaurants and sample the nightlife with recommended hotspots. Make sure to filter your searches by price to make the most of your student discount. You can also take a look to see if there is a guide for your home city to grab a bargain.
9. Budgeting
Mint: College students have limited disposable income which means you need to budget so you don't run out of cash at the end of the month. The Mint app links up with your bank account so you can track your finances to account for your spending. You can even set reminders for your bills so you won't have to pay any late fees.
10. Reading
Kindle: Turn your mobile device into a book with the Kindle reading app. Whether you're spending your time reading books for pleasure or you're desperately trying to deconstruct research papers for a class project, the Kindle app can take digital reading to the next level. Possibly the best feature is the ability to highlight and look-up the definition of words using the built-in dictionary. Save yourself countless Google searches!
Best Android Apps 2015 List 
11 to 20…
11. Andie Graph
First up is Andie Graph and this is one seriously underrated calculator app. Using this, your graphing calculator, and these instructions, you can have a completely functional graphing calculator on your phone or tablet to take with you anywhere. That's one less piece of equipment to carry around and fewer batteries to buy. This is a lifesaver for math students.

12. CamScanner
CamScanner is more of a productivity tool but it can come in handy for almost any college student. Using this, you can scan various documents (lecture notes, registration forms, study guides, homework) and save them to your device for later use. The tech behind it is solid and it's very simple to use overall. There is even built-in functionality for sharing and for faxing, in the unlikely event that you need to fax something.

13 Evernote
Evernote is pretty much ubiquitous with greatness on Android. It's a full-featured note taking application that lets you create notes, notebooks (a way to organize notes), and it even has some collaborative features for those group projects. You can embed audio recordings which is great for recording lectures in class and you can also embed photos when needed. It's powerful, it's free to use, and it's compatible with literally any computer so you can easily transfer information easily.

14. Todoist
Todoist is a to-do list app that helps you stay organized. It features a very simple, day-based interface so you can wake up, check it, and see what you need to do that day. This is great for keeping assignments in order and you can tag tasks so you know exactly what it's for. There is also a desktop application so you can sync your tasks between platforms. It's simple, effective, and it works.

15. Udemy
Udemy wants to be a university-replacement app but it's still a valuable resource for college students. It has classes that you can take to freshen up on topics or learn new ones. In college, you may need a little extra help learning some concepts in some areas and Udemy is perfect for that sort of learning. The classes can get a bit expensive but there are plenty of cheaper and free ones to choose from. It's worth a shot if you need a little supplemental learning.

16. GK for SSC IBPS and IAS Exams
OnlineTyari GK app in Hindi and English helps you in preparing for SSC, IBPS, UPSC exams. It also provides daily current affairs for 2015 along with question banks and mock test series which you can use in offline mode as well. E-Books with pdf support are also available now.
17. LectureRecordings
LectureRecordings is an Android app for audio recording, mainly while taking handwritten notes using LectureNotes.
It has been designed while having a user at university (or at school) in mind, for instance a lecturer who is using it for recording her/his lecture while teaching using LectureNotes (by writing on the device and projecting the screen content for the audience) or a student who is using it for recording the lecture's audio while taking handwritten notes during a lecture. However, it has many potential applications outside university, for instance in business or technology.
Its major target devices are tablets with Android 3.0 or later (the development is done on a Samsung Galaxy Note 10.1, an Asus Nexus 7, a Samsung Nexus 10, an Amazon Kindle Fire HD, and an Asus MeMO Pad). 
18. Revision App – Tutor Videos & Revision Guides:
Revision App is perfect for revising on your iPhone & iPad + it is MADE BY TEACHERS! Revision App is packed with Revision Guides, Tutor Videos & Interactive Practice Tests for your GCSE, AS-Level, A2-Level & 11 Plus Subjects. We use fun animated videos & revision content made by teachers to help you get great grades in your exams!
Get Revision App Today & Improve Your Grades!
Reading A Book For An Hour = Revision App For 20 Mins
Revision App covers every key subject you need to revise, it is the only Revision App or Revision Guide you will ever need :)!
Here are just some of the subjects Revision App covers:
19. myHomework Student Planner
What makes myHomework the best student planner for english speaking students at school or university?
* Beauty, Simplicity, and Reliability – myHomework has a modern design and simple interface making it easy for anyone to use. Our apps fill their role as a planner without network connectivity.
* Amazing Anywhere – With highly rated apps for your phone, tablet and a wonderful website, it's the most complete on the go planner experience anywhere.
* Price – It is free and a premium ads-free experience is just $4.99/year across all of the apps and website.
20. Khan Academy 
More than 4,200 educational videos on Khan Academy let you learn about anything you want, from math and computing to music and the college admissions process. You can even prep for the SAT.
A cool highlight of the free app is the ability to download any of the videos to view later, such as the video of LeBron James introducing a math problem about the probability of making 10 free throws in a row, or the interview with the founder of Ecko Unlimited.