IIT Madras GATE 2016 Cutoff Marks & Admission Process
Aspirants to the M.Tech courses at IIT Madras can check the GATE 2016 Cutoff for IIT Madras given on this page to know the minimum scores to avail admissions. The GATE 2016 Cutoff is determined by IIT Madras and is based on various factors like the number of seats available, number of applicants, cutoff for the previous years.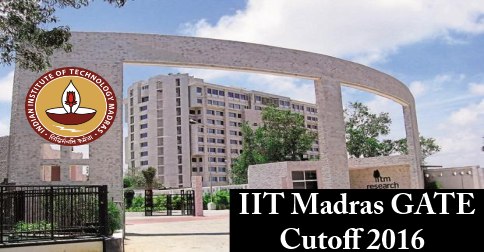 IIT Madras is one of the most prestigious institutes in India which offers M.Tech. Programs in different disciplines. Most of the M.Tech. courses are four semester programs. The candidates who are appearing in GATE 2016 Exam and desirous of getting admission in IIT Madras will have to directly apply to the institute itself for admissions.
The GATE 2016 Cutoff for IIT Madras will be announced at the time of admissions after the announcement of the GATE 2016 Result.
Download GATE 2016 Answer Key – Click Here
Lakhs of candidates have appeared in the GATE 2016, finally the results was released on 19th March. Many aspirants have qualified in the examination. Now it is the time for apply IIT Madras to get M.Tech admission based on the GATE cut off for IIT Madras. Here we have given the IIT Madras GATE cut off 2016 with GATE Score and GATE Percentage of marks in qualifying examination. The IIT Madras on an average admits 1556 candidates for different Postgraduate and Doctoral programmes every year. 
GATE 2016 Cutoff for IIT Madras – We have put the IIT Madras GATE previous year cut off mark and qualifying mark for the GATE 2016 exam.
Candidates will able to check the GATE 2016 Result on the official website. Also keep checking our site for the cut off and result.
Kindly provide with your email id and as the results are out , we will send you an email.
GATE Previous Year cut off for IIT Madras will help you to target the admission in IIT Madras through GATE 2016.
Given below is the table showing you the 2014-2015 cut off of various M.Tech. programmes. Candidates who have already faced the GATE 2016 exam and waiting for the GATE Result or GATE Score Card can get the brief idea about the M.Tech. cutoffs for GATE 2016 exam.
GATE 2016 Cutoff for IIT Madras M.Tech. Admission
The Cutoff for IIT Madras 2016 M.Tech. admissions is yet to be declared. The cutoff would be released soon after the declaration of GATE 2016 Results. Candidates can however check the cut off and schedule for IIT Madras M.Tech. Admissions 2015.
IIT MADRAS GATE 2015 Cutoff
| DISCIPLINE/COURSE CODE | QUALIFYING DISCIPLINE | GENERAL | OBC | SC | ST |
| --- | --- | --- | --- | --- | --- |
| AE1Y | AE | 585 | 551 | 352 | 411 |
| AE1Y | ME | 772 | 732 | 647 | 309 |
| AE1Y | AU,CE,CH,EN,MF,MM,NA,PR | 664 |   |   |   |
| AM1Y | AE,AU,CE,CH,ME,MM,NA,ZE | 750 | 695 | 491 | 472 |
| AM2Y | BM | 508 | 449 |   |   |
| AM2Y | IN | 708 |   |   |   |
| AM2Y | AE,CE,CH,CS,EC,EE,ME,MM | 760 |   | 465 |   |
| CA1Y | CH,ZE | 398 | 390 | 337 | 253 |
| CA1Y | CY, ZS | 578 | 530 |   |   |
| CE1Y | CE | 810 | 708 | 522 | 643 |
| CE1Y | AR | 860 |   |   |   |
| CE2Y | CE | 689 | 548 | 516 |   |
| CE2Y | AG,BT,CH,EV,ME,ZE | 704 | 619 |   |   |
| CE3Y | Ce | 690 | 653 | 501 |   |
| CE4Y | CE | 671 | 542 |   | 363 |
| CE4Y | AG | 625 |   | 290 |   |
| CE4Y | EV,ME,ZE |   |   |   | 443 |
| CE5Y | CE | 828 | 798 | 445 |   |
| CE6Y | CE | 743 | 693 | 544 | 364 |
| CE6Y | AR,ZE | 860 |   |   |   |
| CH1Y | B1,CH;EV,ZE,ZS | 592 | 472 | 373 | 425 |
| CL1Y | AE,AG,AR,AU,BI,BM,BT,CE | 694 | 592 | 438 | 393 |
| CS1Y | AE,AG,AR,AU,BI,BM,BT,CE | 748 | 718 | 520 | 479 |
| EE1Y | EC,EE,EP,IN,ZE | 777 | 710 | 589 | 412 |
| EE2Y | EC,EE,EN,EP,IN,ZE | 759 | 661 | 505 | 510 |
| EE3Y | EC,EE,EP,IN,ZE | 819 | 745 | 717 | 455 |
| EE4Y | IN | 771 | 637 | 499 | 277 |
| EE4Y | BM,EC,EE,EP,ZE | 768 | 714 |   |   |
| EE5Y | PH,EP | 451 | 359 | 256 |   |
| EE5Y | Ec,EE,IN,ZE | 748 |   | 501 | 434 |
| MA1Y | MA | 452 | 352 | 291 | 225 |
| MA1Y | AE,CE,CH,CS,EC,EE,ME,MM | 865 |   | 468 | 501 |
| ME1Y | ME | 798 | 770 | 581 | 424 |
| ME2Y | ME | 865 | 781 | 554 | 443 |
| ME3Y | ME | 769 | 743 | 617 | 380 |
| ME3Y | AE,AU,CS,EC,EE,IE,IN,MF,ML | 839 |   | 698 |   |
| MM1Y | MM | 514 | 477 | 249 | 317 |
| MM1Y | BT,CH,CR,CY,ME,MF,MS,NT | 732 |   | 611 |   |
| NE1Y | CH | 389 | 384 |   |   |
| NE1Y | ME | 730 | 721 | 490 |   |
| NE1Y | MM | 606 | 452 |   | 101 |
| NE1Y | PH | 422 |   | 244 |   |
Important Dates for IIT Madras M.Tech. Admission 2016 (Expected schedule)
| EVENTS | DATES |
| --- | --- |
| Opening date for Online Applications | March 7, 2016 |
| Closing date for Online Applications | April 15, 2016 |
| Suitability Test/ Interview for relevant candidates | May 2, 2016 |
| Reporting date for admission | July 27, 2016 |
| Date for Spot Admission | July 28,2016 |
| Orientation Program | July 29, 2016 |
| Commencement of Classes | August 3, 2016 |