Have you recently experienced the crushing disappointment of failing an exam? Remember that setbacks are only stepping stones to achievement. In this blog article, we'll look at how independent colleges may provide you with a second chance and enable you to succeed academically in the event of test failure as well as the different opportunities they have to offer!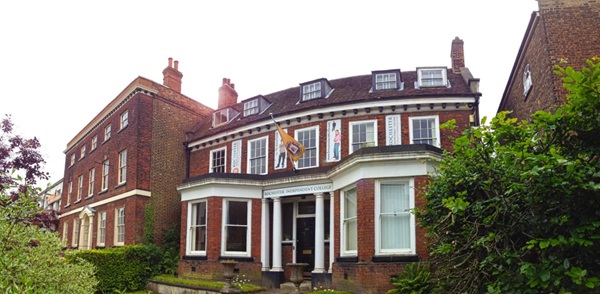 A Fresh Start:
If you failed an exam, an independent institution might provide you with a new beginning. These organisations have a reputation for their welcoming and inclusive traditions where you may put your disappointment behind you and start again. Independent colleges understand that setbacks happen and they believe in giving students an opportunity to bounce back and succeed.
Personalised support and care
One of the key advantages of independent colleges is their focus on personalised attention and support for students. Independent colleges frequently have smaller class numbers opposed to bigger schools, this allows for more individualised interactions between students and teachers allowing them to better understand your unique needs for learning, spot your areas of weakness, and provide you with specialised advice to help overcome your academic difficulties.
Additionally, These teachers may assist you in creating efficient study routines, time-management tactics, and exam-preparation strategies that are tailored to your learning preferences. Independent colleges make sure you get the help you need to excel academically by offering constant support.
Flexible Learning Environment:
Independent colleges are highly skilled at designing a learning environment that is suited to your particular need.They provide a range of schedules to suit your needs, whether you desire a full-time programme or a part-time one to fit other commitments. This enables you to follow a more personalised learning journey while juggling your education with other responsibilities.
Independent colleges' flexibility enables you to stand back, assess your prior study methods, and make the required corrections. You may devote extra time to subjects or topics that have previously given you trouble, and you can establish a study schedule that will help you remember and understand the content better. Additionally, independent colleges frequently provide services like learning centres or libraries with extended hours, providing you more chances to do your own studying and get tutoring when needed.
Supportive Community:
Your academic career may be greatly influenced by the people you surround yourself with. At Independent colleges you'll have the chance to interact with others who share your viewpoints and who can encourage and assist you along the road by understanding the difficulties you've encountered. Your general well-being and academic achievement can be impacted by developing good relationships with classmates and professors.
Independent colleges frequently create a nurturing atmosphere where students are encouraged to grow from their experiences and learn from their mistakes. They offer a safe space that allows pupils to overcome challenges without judgement or discouragement since they understand that failing is a normal part of the learning process.
Nurturing Resilience and Growth Mindset:
Independent colleges are aware that failure is a necessary component of learning and that failures can be valuable learning opportunities. Independent colleges provide a strong emphasis on building resilience and a growth mentality, urging you to take risks, rise to new challenges, and persevere in the face of difficulty. Independent institutions enable you to consider exam failure as a momentary setback rather than a defining element by growing a positive mentality and giving you the skills to overcome any challenges.
Services for Students:
Independent colleges place a high priority on the success and well-being of its students by providing a wide range of services for them. Among these are possible job counselling, tutoring services, counselling programmes, and academic assistance. By having access to these tools, you can be certain that you'll get the help and direction you need to overcome obstacles, make wise decisions, and succeed both academically and emotionally.
Workshops and Personal Development:
Independent colleges frequently host seminars and workshops on personal development aimed at improving essential skills including time management, critical thinking, problem-solving, and effective communication. Attending these programmes can improve your career and personal development overall, preparing you to face problems in the future.
Diverse teaching methods:
Diverse teaching methods and approaches are frequently provided by independent colleges to accommodate various learning types. If you have trouble with the teaching methods in your prior school setting, this may be especially helpful. Independent colleges may use engaging lectures, practical training, group projects, or real-world applications to help you comprehend and remember content.
Mentorship Programmes:
Mentorship programmes are frequently available at independent colleges, where senior students or with more expertise can help you as you progress through your studies. These mentors may give insightful advice, share their own stories of overcoming obstacles, and offer tips on effective study methods and test-taking procedures.
Career Counselling Services:
Independent colleges place a high priority on your professional achievement and provide beneficial career counselling services. They help you identify potential career routes, define objectives, and create a strategy to meet those objectives. This advice is extremely helpful in helping you select a rewarding job path and make wise decisions about your future, especially while trying to recover from test disappointments.
Career Services:
Career service departments at independent colleges often help students with career exploration, job searches, and internship placements. These divisions provide mock interviews, resume and cover letter advice, and courses on job seeking methods.
Study abroad programmes:
A lot of independent colleges provide study abroad opportunities for students to get immersed in various cultures, develop a global perspective, and extend their horizons. Studying abroad can give you a new academic and cultural perspective, revive enthusiasm for studying, and even open up new academic options that weren't available to you in your prior educational environment.
Exam failure doesn't imply your academic career is over, an encouraging environment where you may make a fresh start is offered by independent colleges.  Consider this as a chance to develop and learn, and always keep in mind that failure is simply a stepping stone to success. You may start a new chapter, build resilience, and realise your full potential with an independent college by your side.