Specialist for Hospitality, Hotel Management, Tourism and Events
Hospitality Management Studies Principles, norms and values required for developing business strategies in an industry concerned with providing quality food, accommodation, and activities to tourists. Hospitality management deals with the establishment and implementation of efficient and responsible steps in order to achieve customer satisfaction. This field of study targets students that enjoy traveling and are looking for a dynamic career that involves a great deal of human interaction.
You are interested in getting a Bachelor's degree in International Hotel Management or Master's degree in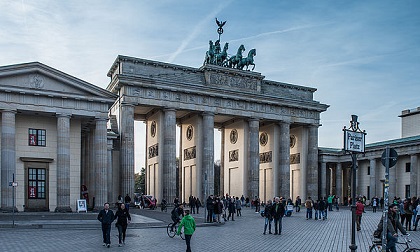 International Hospitality Management? Benefit from our international Bachelor and Master programmes in Dresden.
With over 12,500 students the SRH is one of the leading education providers in Germany. Our universities offer and expect the highest standard in education, studies, instruction and research. Our excellent education comes with extraordinary chances for your future.
Conveniently located within the heart of Dresden the Campus provides professional trainings, bachelor's programmes and master's programmes. Through covering study programmes in both English and German language we created an international environment enhanced by a cosmopolitan atmosphere.
Small study groups, international internships and company projects with real businesses – you can also experience all these advantages at our Dresden campus where we offer international study programmes especially designed for the ever-growing hospitality industry.
Programs Offered by SRH University DRESDEN
BA In International Hotel Management
Duration of Study: 7 Semesters
Tuition Fee: 7,440 Euros Per Year
Mandatory Internship: 3 internships, totalling 12 months
Admission Requirements: University Entrance Qualification/Good English Skills
Intake: September 2019
MA In International Business & Leadership
Duration of Study: 4 Semester
Tuition Fee: 8,160 Euros Per Year
Admission Requirements: 

Three-year Bachelor's programme.   

Basic understanding of economics proven by modules in previous studies.

We accept TOEFL, IELTS, TOEIC, CAE, CPE or similar.

Internship:  6-month internship abroad
Intake: September 2019
MBA In International Hospitality Management
Duration of Study: 3 Semester
Tuition Fee: 8,160 Euros Per Year
Admission Requirements:

Bachelor's degree or equivalent.

proof of English language proficiency, proof of at least two years of work experience.

Intake: September 2019
ADMISSION TIMES Admission Times is the admission advisory board for the — students, universities and overseas education system. Admission Times consists of accomplished professionals with years of experience in education industry. The objective of the advisory board is to provide guidance & counsel the student to provide insight into the university admission process. 
Apply Now : Fill the form on the below or email us at  application@admissiontimes.com
Why Study In Germany
Germany is one of the most popular education destinations for international students. There is a sizeable international community studying in various German universities. There are many reasons why a student finds Germany to be the ideal foreign destination for higher studies.
A World Class Degree
Variety of Education Facilities
Facilities for English Speakers
A Large International Community
Low Tuition Fees
Affordable Living Costs
Numerous Scholarship Programmes
A Beautiful Country