Study At Top Ranked Business School 2020 Intake
Study at Top Ranked Business Schools in France: KEDGE Business School is a French business school and grande école. Located in Marseille, Bordeaux, Toulon and Paris. the school is a merger between two business schools: BEM (ESC Bordeaux, founded in 1874) and Euromed (ESC Marseille, founded in 1872). Following the merger, Kedge is the largest business school in France.
It is consistently ranked near the Top 10 business schools in France by the Financial Times and is the one of the best 30 business schools in Europe, according to the Financial Times 2014. Nationally, it ranks 3rd for its MBA, 3rd for its budget, 2nd for research and is accredited by Palmes League as TOP business school with significant international influence. The institution also holds the Triple accreditation (AACSB, AMBA, EQUIS). The Global Executive MBA from Kedge Business School is now ranked 22 worldwide, one place up from last year, the KEDGE BS Global Executive MBA pursues its progress in the Top 25 of the 2016 Financial Times Executive MBA ranking. In seven years, it has moved up 62 places in this reference ranking.
KEDGE Business School is founded by Chambers of Commerce and Industry of Bordeaux and Marseille. It is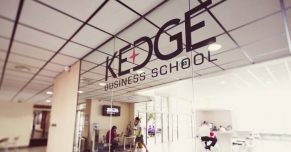 governed by a Board of Directors composed of business leaders and representatives of local authorities.
KEDGE Business School is one of the top ranked business schools in France and offers comprehensive management training at undergraduate & graduate level. Located in Marseille and Toulon, in France, the school is EQUIS, AMBA & AACSB accredited.
Why Study At KEDGE
95% of Graduates Hired Within 6 Months after Graduation.

A Member of the Conference des Grandes Ecoles.

4 Campuses in France.

Ranked #49 Financial Times.
Make your choice of campus, programmes, courses… let's have a look at KEDGE academic overview.
When you decide to study abroad, it can be difficult for you to understand in what programmes you can be enrolled to for the reason that the academic system may be different from your home institution.
Here at KEDGE Business School we welcome both Bachelor and Master students into different Programmes
SPECIALIZED PROGRAMS – Bachelors/MSC AND SPECIALIZED MASTERS
Bachelor's Degree Business
Business Administration
Length
Location 

International BBA

Marseille

Master's Degree
Business

International Business

Multiple (2)

M.Sc. Business Engineer

3 years

Toulon

MAI – MSc in Purchasing & Innovation Management

Bordeaux

Business Administration

Economic Development

1 year

Marseille

Executive MBA

Multiple (2)

MBA – Executive Maritime MBA

Marseille

MBA – World Med MBA in Marseille and/or Shanghai

Multiple (2)

Finance

Corporate & Sustainable Finance

Multiple (2)

IMM – Finance & Organisational Management

1 year

Marseille

MSc in Finance

1 year

Marseille

International Business

IMM – International Business

1 year

Marseille

International Master in Management (IMM)

1 year

Marseille

International Trade & Logistics

Marseille

ISLI – MSc in Global Supply Chain Management

Bordeaux

Management

Master in Management – Grande Ecole

2 years

Marseille

Master in Management Grande Ecole

Multiple (2)

Personal Development & Leadership

1 year

Marseille

Marketing

Digital Marketing & sales

Marseille

IMM – International Brand Management

1 year

Marseille

Marketing

Marseille

Transport & Logistics

IMM – Maritime, International Transport & Logistics Management

2 years

Marseille

Operations & Supply Chain Management

1 year

Marseille

Creative Arts & Design

M.Sc. Designer Innovation & Design Thinking

5 years

Toulon

Arts Management

Arts & Creative Industries Management

Paris

Humanities & Culture
Sports Studies & Management

MSc Sport – International sport & event management

Marseille

Sustainable Development

MSc in Sustainable Change

Marseille

Tourism & Hospitality
Event Management

IMM – International Sport & Event Management

1 year

Marseille

Wine & Sommellerie

MVS – MSc in Wine & Spirits Management

Bordeaux
To APPLY
Fill the FORM or send your documents at application@admissiontimes.com
ADMISSION TIMES ADVISORS have years of experience and believes that each student is unique and would provide professional and unique counselling process to each student.
Ranking –
| | | | | | |
| --- | --- | --- | --- | --- | --- |
| | 2013 | 2014 | 2015 | 2016 | 2017 |
| Financial Times – Best European Business School | 32 | 29 | 30 | 33 | 40 |
Programme Grande Ecole
| | | | | | |
| --- | --- | --- | --- | --- | --- |
| | 2014 | 2015 | 2016 | 2017 | 2018 |
| Le Parisien | 7 | 7 | 7 | 7 | |
| Challenges | 10 | | 5 | | 7 |
| Le Figaro Etudiant | 14 | 13 | 10 | 10 | |
| Le Point | | | | | 7 |
Global Executive MBA
| | | | | | |
| --- | --- | --- | --- | --- | --- |
| | 2013 | 2014 | 2015 | 2016 | 2017 |
| Financial Times | 43 | 27 | 23 | 22 | 37 |
KEDGE Bachelor
| | | | | | |
| --- | --- | --- | --- | --- | --- |
| | 2013 | 2014 | 2015 | 2016 | 2017 |
| Le Parisien | 2 | 1 | 1 | 1 | 1 |
International BBA
| | | | | | |
| --- | --- | --- | --- | --- | --- |
| | 2013 | 2014 | 2015 | 2016 | 2017 |
| Le Point | 2 | 2 | 3 | 4 | 4 |
EBP International 
| | | | | | | |
| --- | --- | --- | --- | --- | --- | --- |
| | 2013 | 2014 | 2015 | 2016 | 2017 | 2018 |
| Le Point* | 2 | 2 | 5 | 3 | 2 | 16* |