St Stephen's releases first cut-off, English highest at 99 per cent
For the second year in a row, St Stephen's College college has also hiked its fees. Admission fees for undergraduate courses for each semester has been increased from Rs 2,425 to Rs 2,635.
The college has received 21,400 applications this year for a total of 400 seats. Last year, it had received 32,100 applications for the same number of seats.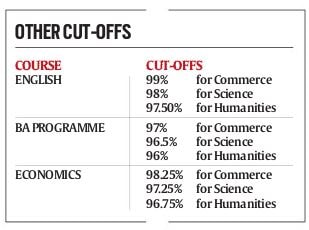 St. Stephen's College admission process to start from  May 28. Currently the college is keeping quiet over the issue of online centralised registration as recommended by the admission committee of Delhi University. Application form will be available on official website ststephens.edu .
St Stephens college has issued the tentative schedule for the aptitude test and interviews, which will start from June 20 and finish on July 9.
Aspirants may complete the form online and follow the procedures when it becomes available on this site.
The tentative schedule for the Aptitude Test and Interviews will be as follows.
| | |
| --- | --- |
| Discipline | Date(s) |
| Sanskrit | 20 June |
| Economics | 21,22 & 23 June |
| Physics | 21,22 & 23 June |
| Chemistry | 25,27 & 28 June |
| English | 28 & 29 June |
| History | 29,30 June & 1 July |
| Mathematics | 30 June, 1 & 2 July |
| BSc Programme | 30 June, 1 & 2 July |
| Sports | 4 July |
| BA Programme | 5, 7 & 8 July |
| Philosophy | 9 July |
Subscribe to our newsletter to get latest updates , deadlines and admission process of DU University.  Keep checking our website admissiontimes.com